Cleveland's Consent Decree: The Path Forward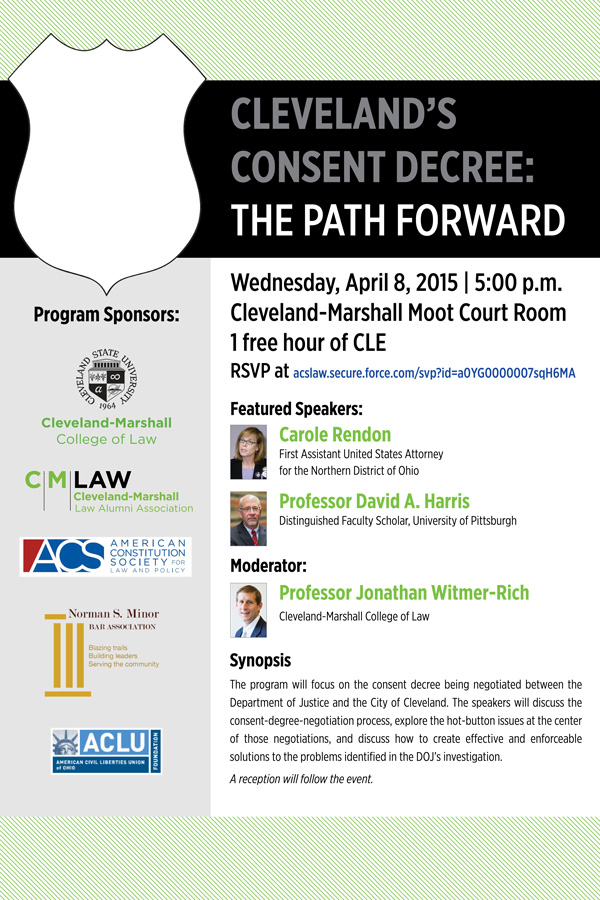 Upcoming Events
Check out the New Job Board!
Look for employment opportunities under the "NEWS" tab.
The U.S. Department of Justice & City of Cleveland Police Department
February 18, 2015 Cleveland.com News:
"Cleveland attorneys: Federal consent decree on police excessive force should overhaul internal investigations"
Click here: http://www.cleveland.com/cityhall/index.ssf/2015/02/cleveland_attorneys_federal_co.html#comments
Cleveland.com: U.S. Attorney General Eric Holder, seated at the head of the table, hosted the first of many discussions with members of the community in December, after federal officials released their 58-page report on police use of excessive force in Cleveland.(Associated Press, Tony Dejak)
* * *
The Norman S. Minor Bar Association has participated in discussions with the Department of Justice and other community leaders to ensure that the communty's voice is heard in terms of the necessary substance of the anticipated consent decree. On behalf of its designated members, NSMBA has submitted DRAFT recommendations and suggestions to both the DOJ and the City of Cleveland for consideration.
The Department of Justice Wants Your Input and Suggestions: (202) 307-6479 and/or community.clevelandpd@usdoj.gov or Click here for details: http://www.nsmba.org/cm/cm_uploads/files/DOJ%20english%20%26%20spanish.pdf
The City of Cleveland Welcomes Your Input and Suggestions: Email: BLanghenry@city.cleveland.oh.us
* * *
Related links:
Attorney General Holder Delivers Remarks at Press Conference on Investigation into Cleveland Division of Police, December 4, 2014:
http://www.justice.gov/opa/speech/attorney-general-holder-delivers-remarks-press-conference-investigation-cleveland
Justice Department and City of Cleveland Agree to Reform Division of Police After Finding a Pattern or Practice of Excessive Force, December 4, 2014:
http://www.justice.gov/opa/pr/justice-department-and-city-cleveland-agree-reform-division-police-after-finding-pattern-or